Jincheng, Liaoning Province Sun City Plaza invites: hello kitty underwear brand stationed in the mall
Born on November 1, 1974, Hello Kitty was a world famous kitten born in London, England with a round face, a bow tie on his left ear, and a cute little tail. Hello Kitty unique cute image has appeared in about 30,000 different products, and selling more than 40 countries around the world, is a household name big star!
Today, her lovely image, in the "Garment (Shanghai) Garment Co., Ltd." inheritance, also appeared in Hello Kitty Rainbow Ribbon underwear, with her always sweet and elegant and lovely into the Chinese market ...
The new Hello Kitty Rainbow Ribbon image shop dedicated to creating a dedicated girl's living space. To close to the natural and warm wood color-based tone, while highlighting the pink, with colorful colors, with a new image was introduced to create a warm and sweet for women's personal products space.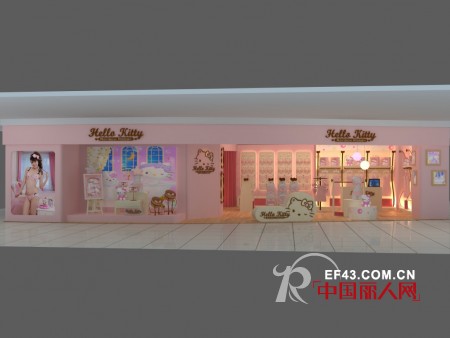 Congratulations: Liaoning Province, Jincheng Sun City Plaza invites: hello kitty underwear brand stationed in the mall, hello kitty underwear brand National Recruitment franchisee. Welcome to hope that the cause of the garment industry to make some people to join us Division Hello Kitty underwear brand stationed in Sun City Square.
Located in the intersection of Jinzhou Central Avenue and Jiefang Road, Liaoning Jinzhou Sun Plaza project is the only central shopping district in Jinzhou and also the throat of Jinzhou traffic connecting north and south and connecting things. As the government's current focus on the development of the region, with the "Greater Jinzhou" regional trend of consumer development, Central Avenue and Jiefang Road has become the largest residential consumption of the core business district leader. The project covers an area of ​​50,000 square meters, with a total construction area of ​​470,000 square meters, including 12 commercial floors with a total area of ​​280,000 square meters. Project attached 80,000 square meters of underground parking, about 2,000 parking spaces.
Jinzhou Sun City Jinzhou is the first international-level leisure experience shopping mall, sharing Jinzhou city center business opportunities.
Multi-functional layout, retail, catering, entertainment, culture, service packages and other formats, so that traffic, volume multiple climbed.
Shopping malls, department stores, famous city, food, movie city, amusement center and other multi-format mode, to maximize "one-stop enjoyment." Internationally rich architectural plans, greatly stimulating the consumer's desire to consume.
Professional property management, for businesses and consumers to provide international standards of personal service.
Professional operation, system promotion, continuous optimization of business, gathering all sources of cash flow, to ensure that the project must flourishing.
280,000 square meters super commercial aircraft carrier, more than 2,000 parking spaces intelligent parking lot, an unprecedented scale, the achievements of the core business district.
Close to Jinzhou Railway Station, Terminal and other city entrance.
Jiafu (Shanghai) Garment Co., Ltd.
Tel: 86-21-33731741
Fax: 86-21-67697906
Ladies Dress, Elegant dress, can be one long dress, or two piece sets, Tops and skirts, Fabric can be woven or knit. Knit warm fabric for winter season, nice fashion designs. Good for business and for dinner dress. Fabric composition can be cotton, cotton blend or other fibers. Good tailor fitting to fit ladies shape. Styles can be from us or from buyers.
Ladies Dress
Ladies Dress,Ladies Knit Dress,Ladies Dinner Dress,Ladies Sleeveless Dress
Shaoxing Harbour Textile&Garments Co., Ltd , https://www.sxharbour.com