"KARENSHEN Karen poetry" brand women's 2014 spring and summer orders will be interviewed
Shanghai Xuanrui Garments Co., Ltd. "KARENSHEN Karen Poetry" brand spring and summer 2014 fashion show and new orders, on October 18, 2013 in Shanghai Royal Tulip Garden Hotel Peony Hall successfully kicked off, China Beauty Network specialists Go to the report. On the morning of October 19, Shen Zong, general manager of Shanghai Xuanrui Garments Co., Ltd., interviewed reporters from China Beauty Network and China Fashion Brands Network in his busy schedule.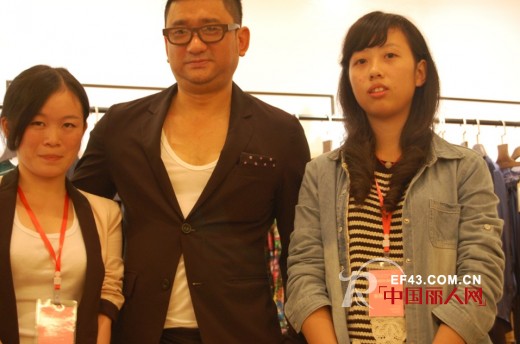 Shanghai Xuan Rui Garments Co., Ltd. Shen total (middle), China Beauty Network reporter (left), China fashion brand network reporter (right) photo
Reporter: First, let's talk about yesterday's show, are you satisfied?
Shen total: Yes, basically achieve the desired results, whether from the light or on-site control, are still good.
Reporter: Yesterday we also saw Karen poetry has a lot of new products, the series is also a lot, then we can introduce the theme and characteristics of the new season of Karen poetry?
Shen total: we have a lot of series of topics are basically follow Europe and the United States the most fashionable clothing design, combined with some of the domestic market likes the sense of color together, the big theme is that there are four.
Reporter: Compared with the past, Karen poetry has what new change or breakthrough?
Shen total: this change is also a great breakthrough, because the brand upgrade, in fact, from the design itself, our change is not particularly large, because we have always pursued the style of simple and three-dimensional cut design, mainly in the fabric quality has been great Breakthrough, we use a lot of very many foreign design sense of fabrics and colors together, including the process is also a great breakthrough.
Reporter: I found a lot of new show yesterday, have adopted the perspective of this element, which is also very consistent with the European and American fashion trends.
Shen total: yes, perspective has always been part of our sexy line, which is one of our four themes, but yesterday because of the reason for the show floor, the original inside the clothes we did not show on the show, Or reflect this sexy beauty.
Reporter: Yesterday we have a lot of designers show floor, can we briefly introduce our team of designers?
Shen total: Yesterday saw all our company designers, two specially came from the studio in Australia, because our Australian brand with domestic brands, not all the clothes are the same, they also have the responsibility of China With the two parts of Australia's design.
Reporter: Such a large team of designers have so many excellent products, it does not know Karen Poetry Women's specific positioning and consumer groups is like?
Shen total: the positioning is mainly fashion people, people who love fashion, because our clothes are very sense of design, quality of life for women who have high demand, is our main consumer groups. The span of our age positioning is relatively large, slightly larger than the average brand, mainly located in the 25-40 year-old woman.
Reporter: Karen poetry targeted at high-end women, but with the domestic high-end clothing, the increasing quality of the brand, many consumers can not afford to exclaim Mall and store clothes. How do you see this phenomenon?
Shen total: I think so, and now may have a huge impact on online sales for offline stores, from our own brand, our clothes is not just selling, selling style, we also sell the quality, technology, Low-end brands may not be able to meet the needs of women who love fine clothes, so I am not particularly worried about. But now the entire market is really bad, but those who love our brand, still still love.
Kitchen Disposable Cleaning Nonwoven
Non Woven Polyester,Needle Punch Nonwoven,Disposable Cleaning Nonwoven,Kitchen Wipes Non Woven Fabric
Zhejiang Wangjin Nonwovens Co., Ltd , https://www.wangjinnonwoven.com