The baby textile market prospects can be expected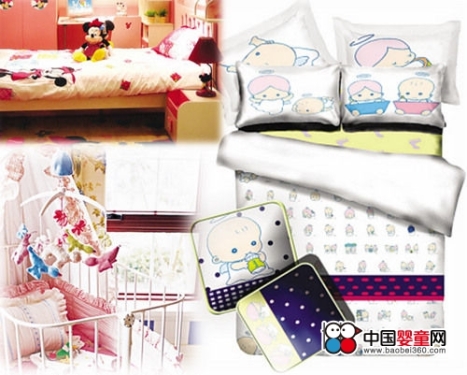 My country's textile industry has a history of more than ten years. However, children's home textiles have not been greatly developed. There are very few brands on the market that sell children's home textile products.
The baby textile market prospects can be expected
Infant and child care products are usually centralized, unified sales, lack of industry segmentation. In the children's products area of ​​major shopping malls, the proportion of children's wear and toys sold far exceeds that of infant and child home textile products.
The person in charge of shopping malls said that it is not the shopping malls that do not pay attention to infant textiles. It is because there are not a few brands that specialize in this field. Such well-known brands as Li Ying Fang cover all types of baby products, from clothing to home textiles to baby bottles and other daily necessities.
Shop counter salesmen are often asked by consumers where they can buy more baby bedding. Due to the small selection of products offered by shopping malls, and the often expensive prices, some parents choose to buy custom fabrics.
In the specialty market of home textiles, those mature home textile brands that have a good reputation and a relatively large market share rarely invest in the production of infants' home textile products.
A few years ago, some brands had produced baby bedding products for a short period of time. However, due to lower returns, they quietly withdrew from the field. Since then, no more people have competed in the home textile market.
In fact, infant and child home textile products have a large market demand.
Yang Zhaohua, president of the China National Textiles Association, said that 6 million newborn babies are born each year in China. Due to the delicate and fragile baby's skin, a variety of quilts and pillows are needed. Some families even prepare more than ten kinds of home textile products for a baby. These include sleeping bags of various sizes, blankets and quilts of various materials, and various core pillows suitable for babies' head development at different times.
A set of these products must be priced at a thousand dollars, so the annual baby home textile products market should have 2.5 billion in sales.
In fact, it is not difficult to enter the home textile market for infants and young children. As long as the quality is firmly grasped, consumers will naturally be willing to pay for the product.
China Glass Animal Ornaments ,Christmas Glass Deer Ornament,Hanging Christmas Ornament,Golden Retriever Ornament, we offered that you can trust. Welcome to do business with us.
Glass Animal Ornaments,Christmas Glass Deer Ornament,Hanging Christmas Ornament,Golden Retriever Ornament
Yangzhou Artdragon Deco., Ltd. , https://www.yzartdragon.com